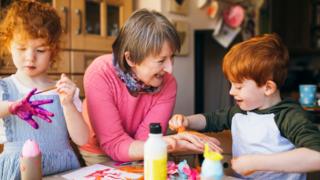 Lockdown restrictions are easing, with changes aimed at reducing loneliness among people who live alone.
Each of the four UK nations has different rules. So what can you do now?
What is a support bubble?
In England and Northern Ireland, single adults living alone – or single parents with children under 18 – can form an "exclusive" support bubble with one other household.
The second household can be of any size – but nobody who is shielding should join a bubble.
People in each bubble can visit each other's homes and go inside.
They will not have to stay 2m (6ft) apart and can stay overnight.
It means, for example, that a single grandparent could pair up with one of their children's households. An adult living alone could mix with their parents, or two single friends living apart could get together.
If anyone in the bubble develops coronavirus symptoms, everyone in both households must self-isolate.
If you don't live on your own, or live with a child or children aged over 18, then the rules haven't changed for you.
In Scotland, First Minister Nicola Sturgeon has said that anyone who lives on their own – or only with children under 18 – will be able to form an "extended household group" with one other household from 19 June.
How many people can I meet outdoors?
In England, groups of up to six people from different households can gather outside, in parks or private gardens.
In Scotland, two separate households – up to a recommended maximum of eight people – can meet outdoors, ideally travelling no more than five miles. From 29 June people will be able to meet outdoors with two other households at the same time rather than just one, but again only up to a maximum of 8 people.
In Wales, any number of people from two different households can meet each other outside. As in Scotland, families should aim to travel no more than five miles. Beauty spots remain closed.
In Northern Ireland, groups of up to six people who do not live together can meet outdoors.
In all countries, children are included in the headcount and social distancing guidelines – remaining 2m (6ft) apart from each other – apply.
What sports can I play now?
People in England can exercise outside with up to five others from different households. In Scotland, people from two households, in groups of up to eight people, can exercise outside.
So having a kickabout with a football in the park is allowed in both countries, as long as people stay 2m (6ft) apart.
However, full games with someone from outside your household are still not allowed because of the physical contact involved.
Small groups of sports teams can also resume fitness sessions.
Individual sports permitted in England, with social distancing, include athletics, golf, horse riding and tennis, where doubles is also allowed with someone from outside your household.
Tennis, can also be played in Scotland and Northern Ireland – but not yet in Wales. However, golf can be enjoyed everywhere.
From 29 June, outdoor playgrounds and sports courts will open in Scotland.
Who has to still stay at home?
People with certain underlying health conditions, or who are pregnant or aged over 70, are deemed to be clinically vulnerable. If you are in this category, you are advised to stay at home as much as possible.
Another group, of about 2.5 million people, is categorised as clinically extremely vulnerable.
This group had been strongly advised to stay at home at all times and avoid face-to-face contact – so called "shielding".
Now those people in England and Wales are being told they can spend some time outdoors again – either with members of their household, or by meeting someone else at a social distance.
People shielding in Scotland have also been told they can now spend time outdoors.
Why is social distancing necessary?
Social distancing is important because coronavirus spreads when an infected person coughs small droplets – packed with the virus – into the air.
These can be breathed in, or can cause an infection if you touch a surface they have landed on, and then touch your face with unwashed hands.
Virus transmission is less likely when "fresh" air is involved – usually when people are outside.
What if I have symptoms?
If you show symptoms of coronavirus – such as a dry cough, high temperature or loss of taste – you must take extra precautions.
You should self-isolate – stay at home and not leave it for any reason. Ask others to drop off food and medicines.
If England's NHS Test and Trace team contact you because you've been close to someone who has tested positive for coronavirus, you must self-isolate for up to 14 days – even if you feel fine.
The people you live with don't have to self-isolate, but must take extra care regarding social distancing and hand washing.
There are similar tracing systems in Scotland, Wales and Northern Ireland.
blocked drains kingston upon thames

Source link